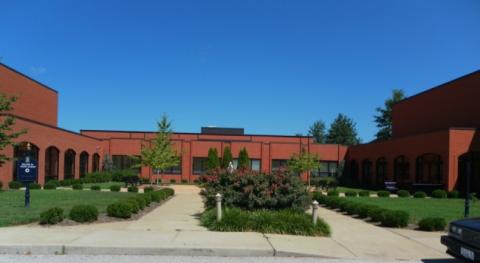 Founded in 2007 in the traditions of the Sacred Heart, Barat Academy is the only Catholic co-ed high school in St. Louis that offers single-gender classes.  The evidence is too strong to ignore. Boys and girls learn differently and benefit from single gender education. Some believe single gender schools have a detrimental impact on social growth. Our answer is a coeducational campus with single gender classrooms. At Barat, boys and girls interact regularly at morning announcements, lunch, Service Learning, school dances, and a host of other activities. However, when it comes to the classroom, they are single gender and our students are distracted less and participate more.
At Barat Academy, we welcome and support all students of faith, whether they are Christian, Muslim, Hindu, Buddhist, or Jewish; what matters is their faith is important to them. Our core values are seen through the LearnLife model of Love, Learn, Serve, Build, and Grow and guide all of our actions, all of the time.
We focus on providing personalized learning for our students and will help them discover their passions while they strengthen their 21st Century skills. Barat emphasizes preparation in STEAM fields (science, technology, engineering, arts, and math) that are critical for workforce development nationally and in particular, for St. Louis' booming bioscience and technology sectors.
Barat Academy has a rich tradition of academic excellence and equally important, a school that produces outstanding young women and men of character, perseverance, and who understand the importance of social justice and serving others. More than just a high school, Barat Academy is a place where boys and girls become young men and women of integrity, with a strong sense of social justice, prepared for college and prepared to lead. 
We are truly a private school with a public purpose! 
Mr. Chip Clatto
Principal
Mission
Barat Academy is a private, independent, Catholic, college preparatory school which recognizes both the worth of each student's intellect and the importance of fostering caring citizens who will become lifelong learners.
Purpose
Barat Academy creates a learning community of citizens who are transformed in Christ and who will change the world.
Quality
The Society of the Sacred Heart is a Roman Catholic religious congregation established in France by Madeleine Sophie Barat in 1800 to reveal the love of God in the world. True to the vision of our namesake, Barat Academy is founded in the traditions of the Sacred Heart and we maintain a strong commitment to the five goals of the Sacred Heart program:

1.

Educate to a personal and active faith in God

2.

Educate to a deep respect for intellectual values

3.

Educate to a social awareness which impels to action

4. Educate to the building of community as a Christian value

5. Educate to a personal growth in an atmosphere of wise freedom

These goals are an integral part of our curriculum and each weekday our students reflect upon how they've applied the goals.
Dynamic Community
Because Barat Academy is small school with a full array of sports teams, comprehensive fine arts programs, a unique student-led house system and a multitude of clubs and organizations, there are endless opportunities for all students to get involved and to become leaders. Clubs range from leadership to academics and music to spirituality. Many clubs were started by students, and if a club or organization does not yet exist, students are courage to start one.

The house system provides opportunities for students to serve multiple leadership roles, develop a Christ-centered community and foster positive relationships among students across all grade levels.

Statistics
Class sizes of no more than 15
Single-gender classes in a co-ed school setting
17815 Wild Horse Creek Road
Chesterfield, MO 63005
United States