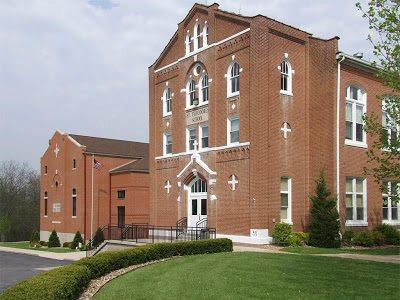 Dear Interested Families,
It is with great pride and excitement that I have the opportunity to lead a school with such a rich tradition of education, and the staff at St. Theodore is excited and eager to work with your child/children.
For more than 15 years I have been dedicated to the field of Catholic education and have worked with a variety of students from all ages and backgrounds. The teachers and staff at St. Theodore are dedicated to continue our legacy of success by building strong relationships with parents, students, and community partners. We focus on virtues, faith formation, data-driven instruction, and provide consistent implementation of the curriculum in a rigorous manner so that we can continue to increase all students' achievement. We know that all students need educational experiences that are relevant and help them build relationships and make real-world connections.
As the Principal, it is important to me that everyone who steps through our doors--teachers, students, and parents--are excited to be here! My joy each day is to work with you, as a partner in education, to ensure your child's success. This attitude enables us to meet the challenges of academic excellence in a positive, fun, and nurturing environment.
Kelly Cassinger
Principal
Mission
St. Theodore Catholic School is a faith-based community, working together to emphasize a deeper relationship with Jesus Christ while providing a comprehensive education in a virtue-based environment.
Purpose
Some of the ways we help students develop a heart and mind for God is that we aim to make the gospel clear to all students. Our goal is to help become saints in Heaven. Some of the activities we do to help with this are: Living Rosary, Recess Rosary, Stations of the Cross, Prayer Circles, Mass/Reflection Journals, Adoration, Guardian Angel/Buddy Classes, Service Projects, Virtue Education, and many other activities.
Quality
Some of the highlights of our schools academics include: Reading Counts Program, Robotics program, Lego League, Full time Learning Consultant, Student Ambassador program, Living Museums, Spelling Bees, STEM/STREAM activities, Junior Achievement Program, Differentiated Instruction, Counselor, Highway Clean Up Program, Blood Drives, High Expectations, Core Ideals, Creating a fun learning environment, offering various types of technology throughout the classrooms and the building, Teaching relevant material, focusing on real world education, Team Teaching in middle school math classes, and many other ways.
Dynamic Community
Some of the ways we ensure a welcoming community and dynamic future for our students by how we help to develop each student in their faith formation as well as academically. We offer so many activities and opportunities through the year that help with this. Some of these things are listed below... New Family Yard Signs, Highway Clean up program, various service projects, Christmas Program, Veterans Day celebrations, Blood Drives, home and school, Family Nights, and many other things.
Statistics
13:1 Student to Teacher Ratio
Average enrollment for K-8 of 163 Students
Staff has an average of 11 years of teaching experience
5059 Highway P
Wentzville, MO 63385
United States